You
Can
Become a Home Owner
Are you fed up with making the monthly mortgage payments for your landlord--helping him get richer and richer--while you throw away your own hard-earned money?

Are you sick and tired of making payments month after month, yet having nothing of value to show for it? You're not alone. Now there's good news for people who are tired of pouring their money into someone else's property.

How Do People with Bad Credit Get Approved?
People with credit challenges can still buy a home, even now in 2012.
Don't make one of these two common mistakes:
1) Don't waste your time applying with your local bank, because banks have the strictest underwriting rules and they want to approve only the borrowers with the best credit.
2) Don't click on Internet ads, because those are lead generation services that sell your information to banks and lenders who are "cherry picking" the best applications. Not only is it a waste of your energy, but it also has the potential to lower your credit score even more with multiple inquiries to your credit report.
Instead, you must go to one of the small to mid-size lenders that specialize in loans for people with credit challenges. I have an updated list that I call "Best Lenders for People with Credit Challenges." I have streamlined my former large list down to the 30 best lenders for residential properties. Some lend in all 50 states and some are region-specific. Additionally, there are two lenders for rental/investment properties; and there are two lenders for special niche loans. These are lenders for 2012-2013.
Now is the time to take action. Home prices are down, so you can get more house for less money.
May I Introduce Myself?
My name is Carolyn Warren, and I spent over a dozen years working for some of the largest national lenders: Countrywide/Full Spectrum Lending, First Franklin Wholesale Lending, Guaranty Bank, and others. I have experience in mortgage retail, mortgage wholesale, and mortgage brokering. What this means to you is that I know all aspects of the mortgage business, and I know how the most unlikely candidates get approved for home loans.
Read This

Before

You Email Me!
Every day my email filled up with people pleading for help. They wanted to know how to buy a house, even though they had some bad credit. I was spending my entire evenings, often until midnight, sitting at the computer answering these good people.
And now, I want to keep helping folks, but I can't keep up with the emails. That is why I created an instant download e-book with all the information you need called, How to Buy a House When You Have Bad Credit.
Simply open it with one click and save it to your computer to read and keep. Print it out, if you like. Do not send me an email asking me how you can buy a house with your bad credit until after you have read this information completely through. The vast majority, if not all, of your questions will be answered there.
But if you do have a question after reading, then please feel free to send me an email, and I will personally answer you.
Risk-Free Guarantee
You have nothing to lose.
No-Risk 100% Unconditional Money-Back Guarantee.
If you aren't totally pleased, simply send a letter through the U.S. mail, and I will refund all of your money.
Order this one-of-a-kind, information-packed book now. It has been updated for 2012-2013, so you receive current mortgage information.
Yes! Give Me This Now. I Want to Kiss Renting Goodbye!
About the E-book
E-book is 99 pages, 8 ½ x 11.
Not sold as a paperback, e-book only. No postage or handling. Instant download.
You can read it on your computer or print it out, as desired.
After reading, if you have a question, I will personally respond to your email.
Juicy Details
The truth: people with bad credit do buy their own homes. (p. 6)
Strategies for getting your loan approved. (p. 10)
Vital information people with serious credit issues. (p. 19)
What about bad credit that wasn't your fault? (p. 21)
Actual real-life Letters of Explanation that turn denials into approvals. (p.30)
How to use compensating factors to get approved. (p. 37)
Insider tips for fixing your credit report. (p.44)
Trapped by credit card debt? Here's help! (p. 48)
Steps from wherever you are now to home ownership. (p. 49)
Home ownership after bankruptcy. (p. 53)
If you went through a foreclosure or short sale. (p. 56)
Getting your income approved. (p. 59)
Can you afford the house you want? (p. 61)
Interest rate choices (p. 65)
No money down loans! (p. 69)
Closing costs explained and how to get the seller to pay them for you. (p. 76)
The loan process made clear, helping you lessen stress. (p. 92)
My Exclusive List of Best Lenders for People with Credit Challenges!
With my 100% Satisfaction Guarantee, you have nothing to lose and The American Dream to gain!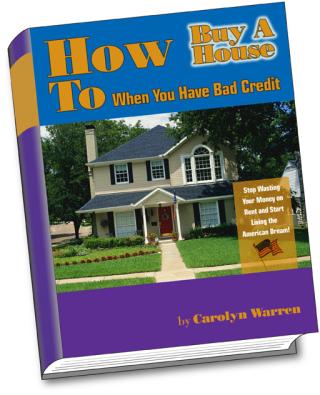 Yes! Give Me This Now. I Want to Kiss Renting Goodbye!

Order your copy here.
Free Bonus Report:

The 30 Best Lenders for People with Credit Challenges in 2012-2013 Here's a sample…

Lender #28 says: If the loan makes sense, we can fund it! We don't waste your time. We decide quickly if we like your proposal, and then we go to work funding your deal. Residential, commercial, and construction lending from $50,000 to $2 million.

Lender #27 says: We have too much damn capital. When banks turn you down, call us. Primary residence and investment properties. Over 25-years' experience. 4-hour approvals.

Lender #13 says: We can work with you regardless of most credit histories.

Lender #5 says: Help for people with a poor credit rating: Traditional banks and other financial institutions only lend to individuals who have a strong credit history. And there are many such people who falter on the stringent guidelines of banks and do not qualify for mortgage loans. We aim to help such people who find difficulty in getting financial help.

Lender #18 says: FHA loans with a credit score down to 500. Make-sense underwriting. FHA loans with no credit score okay. VA loans have no credit score required. Manufactured homes allowed.

Lender #3 says: Since 2001 we have been making Private hard money Loans to real estate investors, builders and dealers. We can make non-conventional loans that traditional lenders often cannot make. We can keep your real estate project moving ahead with short term financing for acquisitions, construction or "rehab" projects, or bridge loans. And, important in today's market, we can help finance purchases and renovation of residential foreclosed properties.

Lender #19 says: If you have bad credit or are under foreclosure or have a bankruptcy, we may be able to assist you regardless of the circumstances. We are an equity based lender and approve applications based on equity and ability to repay the loan, instead of pat credit and payment history. California properties.

Lender #25 is a private investor: Creative lending for short term loans. Construction, residential, and land.
What You Get
This report includes name, contact information, phone numbers, websites. There are lenders for all 50 states, but not all lend in all states.
I took many hours, using my personal contacts from inside the mortgage industry to build this list for you. These are specialty lenders that do not advertise on the Internet. They don't need to, as they have plenty of business from referrals of people on the inside, the loan officers who work for picky lenders who can't approve good folks with credit challenges. Those bankers and brokers refer home buyers to them. Therefore, they don't advertise on radio, TV, or Internet. Advertising with the media not how they choose to spend their money.
This report is yours, free, with your order of my e-book, How to Buy a House When You Have Bad Credit.
Don't email me asking for my list or asking for who will help you, because it's here, in this Bonus Report, and I give it to you free with the purchase of the e-book. I will not give it to you any other way as that would be disrespectful to all the honest people who purchased the e-book. I hope that is clear and makes sense. Grab hold of your dreams, because home prices and rates are lower now than they've been in a very, very long time. Don't let another year go by, wasting your hard-earned money paying your landlord's mortgage payment. Now is the time!