"An Industry Insider explains how to save thousands on your home loan or refinance."
Sneaky tricks pulled by loan officers, bankers, and mortgage brokers are costing you tens of thousands of dollars. The average person is paying too much for their home loan, even if they have good credit. They shell out an extra $1,225 in up front fictional fees, for starters. The big losses come later, month after month, for the life of the loan, due to jacked up interest rates.
Most people call a list of lenders and ask, "What's your interest rate?"
Meanwhile, behind closed doors, loan officers are discussing how to give a low-ball quote to these rate shoppers to get them in the door and then switch their rates later. Even worse, low rates posted on websites can be bogus, outdated, or come with exorbitant fees. Consumers have no idea how to protect themselves from these lies and tricks. They get surprised when their paperwork comes back different, and then they figure it's too late to protest. After all, they don't want to lose their dream home. But it doesn't have to be this way!
FACTS Don't Lie
The Coalition for Responsible Lending estimates borrowers lose $9.1 billion each year to predatory practices. That means the average person shells out an extra $1,225 for fees that are pure fiction. Just recently, a mortgage broker asked her colleagues for some ideas on what to call the additional closing costs they were going to add. She said they were going to split up their large fee into smaller ones to minimize the chance of people trying to negotiate.
The only mace against these rip offs is knowledge. Fair enough. But how can you object if you don't know what's fair and what's an over-charge? Exactly.
That's why I've written Mortgage Ripoffs and Money Savers. It's a story only someone who's been inside closed doors can tell.
Polls say buying a house is on the list of Most Stressful Experiences. But once you're armed with this information and use my quick and easy plan for getting the best loan, you can skip the uncertainty and the stress. For example, chapter two gives you a short-cut to getting the cheapest loan.
Clayton Makepeace, Founder and President of The Profit Center said this:
"Carolyn Warren better get a bodyguard. Her new tell-all on the mortgage industry exposes so many of the lending industry's favorite frauds, every loan officer from Seattle to Miami is going to be gunning for her!

Mortgage Ripoffs and Money Savers is like a map that faultlessly guides you around the carefully camouflaged land mines laid by lenders. And it gives you simple, step-by-step directions for saving tens of thousands of dollars.

If you're looking for ways to save a king's ransom on your mortgage and monthly payments, you simply must read this book. It could easily put an extra $10,000... $50,000... $100,000 or even more into your bank account!"
This is interesting, because when I told a loan officer in Chicago that I was writing a book, he asked, "What's the title?"
"Mortgage Ripoffs and Money Savers," I said.
"Oh-oh. We're screwed!" he said.
You may have read an article in your local newspaper written by Kenneth Harney, Washington Post nationally syndicated real estate columnist. Here's what he said after reviewing this book:
"Finally someone from inside the mortgage industry has come in from the cold and laid out the "dirty little secrets" of the home loan business. Read Carolyn Warren's book and you will be less likely to get fleeced on your next mortgage application."
Michael Masterson, Self-made multi-millionaire and author of Seven Years to Seven Figures said, "I wish I had read this book before starting in real estate."
Dan Barnett, Chief Financial Officer of enSphere, LLC said, "Wow! Educational and fun to read. I'm putting it on our 'must read' list."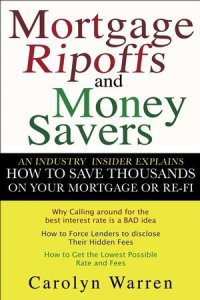 Published by Wiley & Sons, highly respected publisher celebrating over 200 years in business. Publisher of the For Dummies series and some of Donald Trump's real estate books.
Available now at Amazon.com
, www.bn.com, and through bookstores everywhere.