If you're sick and tired of worrying about debts, bills, collections, harassing phone calls, bad credit, law suits, an auto repo, tax liens and all the rest that goes along with that two-ton burden of debt, then this information can literally set you free.
My name is Carolyn Warren, and I've been in the mortgage business, advising people about their credit, for over ten years, and I'm a published author with the highly-respected, global publisher, Wiley & Sons, Inc.: www.wiley.com
I put together a system I call Zap Your Debt™ and Discover Wealth to help good people who are in a bad situation with their finances. This is help for people who are over their heads in debt, who were victims to greedy credit card monsters, loan sharks, unfortunate circumstances, or lack of knowledge about finances.
It's not a scam, a fraud, or wizardry. You CAN zap your debts and get them off your credit report. You CAN legally settle tax liens for less. Just follow the simple, step-by-step directions. It's worked for literally tens of thousands of other people, and it will work for you, too.
Rest assured that all of the strategies are 100% legal and according to law.
So here it is... The 8 Parts of the Zap Your Debt™ and Discover Wealth System:
Zap Your Bills
Zap Your Credit Card Balances
Get Justice for Unfair and Fraudulent Bills
Use Legal Loopholes to Zap Collections and Charge-offs
Get Your Judgments Dismissed
Negotiate Auto Repossessions and Have Them Removed From Your Record
What You Need to Know About Bankruptcy
Zap Your Tax Debt
Part 1: Zap Your Bills
How to tell if you're a "walking financial time bomb." (Take the quiz and tally up your score.)
The 7 Tenets to Zap Your Bills faster than you ever thought possible. These seven tenets are your roadmap to success. Follow them like a recipe or like doing a dot-to-dot picture. It's that easy.
Using the Reward System to increase your wealth. This is a brilliant idea that is fun, gratifying, and really works to put more cash into your pocket.
The Zap Your Debt™ Spending Tracker. This colorful chart makes it super simple to keep track of your budget. Unlike other programs, it's not complicated and time-consuming. It works because it's easy enough to actually do it without taking up too much of your time!
"Thanks to the Zap Your Debt Spending Tracker, I found an extra $200 a month! Simple math says that makes me $2,400 richer this year!" – Julia M., Kent
"I love the Zap Your Debt Spending Tracker! I was trying to use Quicken, but it was so complicated and had features I paid for and didn't even use. This is easy and fun, and I cut my expenses by using it." – Lynette S., Seattle
Part 2: Zap Your Credit Card Balances
From "Debt Stress" to "Debt Free" in less than a year (p. 13)
How to increase your income and make great money without a formal education. (p. 14)
"I'm a single mom with two kids. I was making $7.50 an hour. I guess you'd call me one of the 'working poor.' One of the ideas in Zap Your Debt and Discover Wealth struck a chord with me. I took action and got myself a new position, and now I'm making $20.67 an hour. What a difference! I was able to quit renting and buy a little starter home. I'm on my way!" – Cara L., Des Moines
How to get your creditors to agree to a reduced payment. (p. 13)
The Surefire Method for turning a "no" into a "yes." (p. 14)
How many credit cards you should have for the best credit score. (p. 17)
Warning: the credit card that always hurts your score, no matter what. (p. 18)
Part 3: Get Justice for Unfair and Fraudulent Bills
How to handle billing errors to get them fixed, pronto!
Charged for something you never received? How to get the charge deleted.
If the product you ordered doesn't work like they said: how to get a refund.
You paid for a service that wasn't performed properly: how to get a refund.
How to handle the sticky situation of being ripped off by family.
How to handle the wrongdoing of being ripped off by a friend or lover.
Part 4: Use Legal Loopholes to Zap Collections and Charge-offs
The Very Best Legal Loophole to get out of paying a collection. (p. 22)
This works! In Houston, Texas, a collection company by the name of United Recovery Systems, Inc. paid $240,000 in cool cash to their victims—consumers who used this very same legal loophole to get even. (Original article with the details validating this story on p. 25)
12 things a collector can't say or do—although many try! With this handy list, you'll be able to sue them, or, if you prefer, cite the law and threaten to sue to make them instantly back off! (p. 24)
6 laws a collector must follow regarding contacting you. (Use this ammunition to stop the harassment, the stress, and embarrassment!) (p. 25)
How to exercise your rights if a debt collector violates the law (or violated it within the past year). (p. 26)
The secret attorneys use to get collections and charge offs your credit report. You can do it yourself and save a bundle of money! (p. 28)
The phone number for reporting violators—you don't have to take it! (p. 27)
Part 5: Get Your Judgments Dismissed
If someone slaps a judgment on you, whatever you do, don't ignore it! That could prove to be a fatal mistake, as many people have sadly discovered. A judgment won't go away just because no one ever contacts you. It'll pop up at the worst possible time, like when you're trying to buy a house or car.
The four steps to getting a judgment overturned. (p. 30)
What to do if they offer to settle. Make two demands before you sign! ( p. 31)
If you go to court... what to expect, what to do. (p. 31)
Part 6: Negotiate Auto Repossessions and Have Them Removed from Your Record
State laws limit the ways a creditor can repossess and sell a vehicle. If any of the rules are violated, the creditor may be required to pay you damages. That's a sweet deal for people who were treated wrongly. There are three legal loopholes you should know about, because you may be entitled to compensation. Chances are, no one has ever told you about this before, because most people don't know. And the dealerships certainly aren't going to tell you!
Even if the repo is a done deal, you may be entitled for financial compensation. But worse case scenario, if you're not, you can still have the repo deleted from your credit report.
A common mistake that leads to disaster and regret. Read this first and save yourself the heartache. (p. 32)
Turning a "vehicle disaster" into a positive situation. (p. 33)
The Repo Men: No Warning! No Notification! Can They Do That?! (p. 33)
The 3 Legal Loopholes that can get you compensation. But make no mistake, you have to take the initiative, because no dealership will voluntarily give you money back! They're counting on you not knowing the law.
How to handle a repo that's already on your credit. (p. 36)
How to negotiate like an expert and win every time. (Sample script provided so you don't have to worry about what to say. I tell you word-for-word what I say when I've negotiated awesome settlements for my clients.)
The Secret to getting a repossession deleted from your credit report. (p. 39) This will raise your credit score and save you money and embarrassment!
Part 7: What You Need to Know About Bankruptcy
What the law says about bankruptcy is explained in clear, plain English—for once! The difference between Chapter 7 and Chapter 13 bankruptcy, and which is the better option. Includes the new bankruptcy laws that went into effect in 2006. Plus, the link to get your own state's individual laws.
Part 8: Zap Your Tax Debt
A little-known program set up by Congress allows people who are over-burdened by tax debt to have a one-time opportunity to settle for literally pennies on the dollar. If you've got the cash to pay your back taxes, then this program isn't for you. But if paying the tax bill will cause you "economic hardship," then you're going to be very interested. I've got the two forms you need. Plus, the exact formula that the IRS uses to calculate your settlement. Get this now, because taxes aren't going to disappear on their own.
Your Roadmap to Financial Freedom is Guaranteed
I'm confident you'll be pleased with the Zap Your Debt™ and Discover Wealth System. If you're not, take me up on my 100% money back guarantee. It's good for 1,000 (one thousand) days! It's simple: you like the information you get, or you get your money refunded. And you don't have to make up your mind in two weeks or thirty days, like some guarantees; you have one thousand days.
But Wait, There's More!
You get three free BONUS GIFTS for ordering the Zap Your Debt™ and Discover Wealth System now:
Bonus Gift #1: "Spam Attack"
This special report is for people who hate spam—those awful emails that show up in your in box. The disgusting porn, Viagra offers, lose weight scams, money scams, deceptive mortgage offers, and all the rest of the junk that is a total waste of your time and email space!
7 ways to reduce spam, and one great way to get revenge!
A list of the most common spam scams—I'm sure you know someone who needs this list!
Warning: someone may be hacking into your computer without your knowledge! 30 percent of all spam is sent through an innocent person's computer without their knowledge. That's why it's so hard to locate and stop the spammers. Could it be your computer they're hacking through? Here's the scoop, and most importantly, how to protect yourself.
Bonus Gift #2: "The Secrets of Mystery Shopping Revealed"
Do you love to shop? If so, you may as well get paid for it. But watch out, there are more "mystery shopping" scam offers than you can shake a stick at. Here's how to tell the real deal from the frauds.
Did you see an ad that said you could make from $100 to $5,000 an hour by mystery shopping? Forget about it—they want you to pay them money up front, and they're all fakes. Those so-called "Mystery Shopper Certificates" and "Mystery Shopper Registrations" they sell you are worthless!
But there is a way to become a Mystery Shopper for real—and it does NOT cost you a single cent. All the information is in this report. You can literally get started the moment you finish reading, for free.
Bonus Gift #3: How to Stop Email Chains
Chain emails—they used to circulate by postal mail, but these days, chains, frauds, and scams are showing up via email and in Internet chat rooms. This report tells you how the greedy little game works.
And most important, what to do if you receive an offer, including the email address to report the offenders to. Together, we can stop these solicitations by turning in the perpetrators! Simply send an email to the proper government email address.
The Details
If you have financial concerns, high debts, collections, a repo, a judgment, a tax lien, then you will come out far, far ahead by getting the Zap Your Debt™ and Discover Wealth System. Even one brilliant idea makes it worth getting, but chances are, you'll find many tips, loopholes, laws, and suggestions you can use.
You receive it in download e-book form, so you don't have to pay postage or wait for snail mail. Simply double-click on the link I send you, and you have it. It is 48 pages. You can save it to your computer and also print it out for permanent safe-keeping.
Get the Zap Your Debt™ and Discover Wealth, plus all three bonus gifts for only $12.95. Limited time offer. Price subject to change.
Frankly, if your finances are perfect and your credit is excellent, then you don't need this information. On the other hand, if you've got financial issues, I don't see how you could go wrong. Especially with my famous 1,000-day guarantee and the bonus gifts thrown in. Get started now.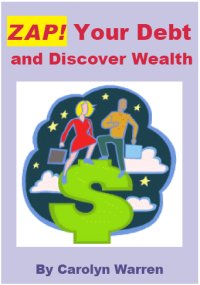 Click Here To Get Your Copy Now