Unlock the Credit Score Secret!


"The Fastest, Legal Credit Improvement System"
By Carolyn Warren
(Member BBB)
Get A+ Credit in record-breaking time!
Have your bad credit deleted...in a manner that is legal, according to
The Fair Credit Reporting Act.
Get the "inside scoop" and control your own credit rating today!
Current Information for 2010!
Unless you just won the lottery, you need a good credit rating.
Your credit score dictates your approvals, your interest rates, and your fees when you apply to buy a home, an automobile, an RV, start a business, and even get a simple credit card. These days, having good credit is an absolute necessity.
Does it frustrate you that the credit reporting agencies keep information so hush-hush? They never tell you how to get rid of the negative information on your credit report early. They refuse to show you a sample scorecard. Would you like to understand and control your own credit rating? Well, now you can!
You can get immediate results as you get rid of the things that are dragging down your score and use very specific, legal tactics to raise your score. In fact, you can do what I did and get an 800+ score so that you get instant awe and respect from everyone you do business with. (I'll tell you exactly how I did this in a moment.) You will have the upper hand in negotiations and save yourself many thousands of dollars in interest and premiums.
You'll never be denied credit--at the cheapest rates--when you have a high score. As you read every word of this article, you will discover how you can be a winner at the "credit score game."
M.R. could not get approved to buy a home because her score was 525. She wrote to say that by following this advice (exactly), her score rose to 750, and she is now a home owner!
R.P. could not get approved for a credit card. His feedback says he now has three cards and bought a ranch-style house as well. He achieved a score in the mid-700's in just over six months.
Are You Flushing Away $175 Every Month?
It's a Fact: People with high credit scores get lower interest rates. If you take a home loan for $175,000 and pay 1.5% more than your neighbor who has excellent credit, you would pay $175 more each and every month than your neighbor! That's like flushing $2,088 down the toilet every year! Isn't there something else you'd rather be doing with that $2,088? Like taking a nice vacation, perhaps?
Fact: Automobile insurance companies now base your monthly premiums on your credit score. That's right. One company offers a 17% discount if your score is over 625, and a significant 25% discount if your score is over 725. Why? Because according to their studies, people who are careful with their credit and also careful drivers. (You can win at this game by raising your score!)
Fact: If you have a 700+ credit score, you can also save on home owner's insurance and pmi (private mortgage insurance).
What Is a Credit Score?
If you have had credit for at least six months, you have a credit score. A computerized file is kept on every person. A complex scorecard, using 40 components, grades your overall "credit picture," and gives it a score ranging from about 350 - 850.
Your credit score is calculated each time your credit report is pulled, at that very moment. Thus, your score will change as soon as you change just one thing in your "credit picture."
Your credit score is an "index of risk" to the lender. It tells the bank how likely you are to pay on time. If your score is too low, they won't approve you. Or, if it is mediocre, they may approve you, but gouge you for a higher interest rate.
Each individual has his/her own score. Married people do not share a score, nor do they average scores together. This makes it imperative for each person to have a high credit rating, because conventional lenders will charge you based on the spouse with the lowest score.
There are three major credit bureaus (Equifax, Experian, and TransUnion). Your score will vary with each bureau, because not all creditors report to all three bureaus. Mortgage companies go by your middle score of the three. They are not averaged together.
Get Your Highest Score Ever!
If you follow the directions in The Hottest, Legal Credit Improvement System--you will raise your score and get your highest score ever. Guaranteed. It's not difficult. It's simply a matter of knowing what to do and then doing it.

Furthermore, it is legal to have negative entries deleted from your credit report before seven long years. It's a fact, people are doing it every business day of the year! So why not you?

How is this possible? The Fair Credit Reporting Act says negative credit "can" (or "may") stay on your credit report for seven years--not that it "must" stay on. If a creditor chooses to delete it early, they have the right to do so. In fact, some creditors don't report to the bureaus at all, which is also legal.

They don't have to report your credit if they don't want to.
They don't have to report your negative credit if they don't want to.
They can remove your negative credit if they choose to.

So that leads to the question, "How do you get the creditors to remove your negative credit?" And that's what you're going to learn in this fantastic system I call "The Hottest, Legal Credit Improvement System."

Here's just some of what you'll get in when you download this information:
The five main criteria credit scores are based on.
Percentages for each criteria, so you see where to focus your efforts first.
How your name affects your credit and what to do about it.
How many credit cards you need to get the most points!
Why you shouldn't close off all your old credit cards.
How having the wrong companies on your credit report penalizes your score, even if you pay on time each month.
What to pay off first, if you have too much credit out there.
What number your credit card balances need to be in order to get a higher score.
How to get creditors to agree to remove your negative credit items.

A partial sample scorecard. (I had to swear never to tell who the individual was who sent it to me!)

How and why joining those non-profit debt management companies actually hurts your credit!
There's more...I'll go into that in a moment...and tell you how I raised my own score to over 800...
WARNING: Some of this inside information about how the credit scoring computers work may infuriate you! You will learn how you may have been misguided, perhaps even lied to or taken advantage of. Some of the so-called credit rules defy common sense and logic. They seem unfair. I agree. But the important thing is to understand the legal system so you can win at this "credit score game."
Neither you nor I can change the algorithm that calculates the scores, but with knowledge, we can control our own credit.
You Will Also Get Actual Letters to:
Get a bankruptcy removed from your credit report early.

Get a charge-off or collection off your credit report early.
Get late payments off your credit report early.

Get inquiries off your credit report.
Get a judgment off your credit report.

You Will Also Learn:
How to correct inaccurate information on your credit report, with an easy form you can fill out and send in.
How I got my own score to hit the 800 mark (please read on):
You see, I became passionate about credit--obsessed even--and made it my goal to become one of the small minority to pass 800. I did 12 out of 13 things (on the list in this download), got my score in the 780 range, but did not top 800 until I did one last trick. Here it is. I had my maiden name, some variations of my name, and my old addresses deleted from my credit files.
Voila! Instant success! My score topped 800. I'll admit that it's darn fun to walk into a car dealership and say, "Don't worry about my credit; my score is over 800" and see the sales person's eyes pop out. I get respect! No one can ever charge me too much in interest, because everyone wants my business. I know it and I let my creditors know that I know it. Politely, of course.
In The Hottest, Legal Credit Improvement System, you will learn exactly how to get the credit bureaus to delete your "extra" names and addresses. In fact, there is a letter you can use--just insert your own name and address--so you don't even have to think about what to say. This is just one of the legal, covert secrets you can use to take control and get an eye-popping score.
Don't waste any time getting all the valuable information you need. Wasting time is wasting money, because time is one of the factors in calculating your credit score. And remember, this is new, updated information using all the latest findings!!!
T. Lewis of Indiana said,
"What a good investment of time and money on my part! Thank you."
Another person said:
"One month ago my scores were 595 (Experian) and 606 (Equifax). Today my score is 715 (Experian) and 647 (Equifax). Your system is great. Thanks a million." (Name withheld by request for privacy.)
What would it be worth to you if you could have all your past mistakes--late payments, collections, charge offs--deleted from your credit report early? What would it be worth to you to raise your score so that you could buy a better house at a cheaper interest rate and make lower payments each month? That would save you a lot of cash, not to mention emotional grief!
In a survey, one individual said he wouldn't hestitate to pay $100. And of course, credit restoration services charge much more than that. But I want to make this affordable to everyone, and while raising your score is much more valuable than $100, not everyone can afford that right now, so I am offering The Fastest, Legal Credit Improvement System for just $29.95. (You can hardly get dinner and a movie for that these days.) Over time, this will save you many thousands of dollars. Now that's a fine investment!

FREE BONUS: Because it's hard to know exactly what to say to get rid of those pesky extra inquiries and old "mistakes," I am now including all the letters you need. This takes all the work out of thinking of what to say. It's all done for you, right here. Simply open up the attachment that has the letters, insert your own name and personal information, and print out. Quick and easy.

No need to wait or pay shipping/postage costs.
This is ready for immediate download now.
Written in 2010.
Click Here To Get Your Highest Score Ever now.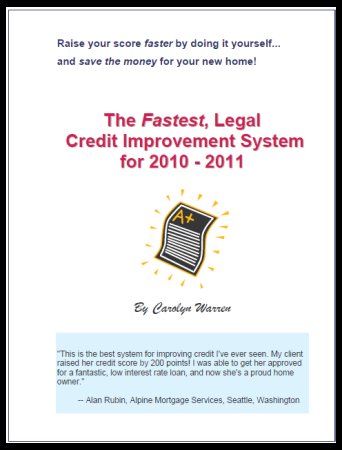 Order with Confidence! After you read this information, if you have any questions, you may send me an email, and I will personally answer you.
Click here to order
About the Author
Carolyn Warren was a mortgage industry insider for ten years, and worked in retail and wholesale lending for some of the nation's largest lenders, including Countrywide/Full Spectrum Lending and First Franklin, a Division of National City Bank (wholesale). She also has experience in credit counseling and credit improvement, and has given presentations on credit to mortgage brokers and bankers.

Carolyn Warren was interviewed on Bob Brinker's national radio show "Money Talk," on "The Gil Rose Show" in San Francisco, "The Walk Show" in Seattle, and others.

The company owned by Brandon and Carolyn Warren, Bookmark Publishing Company, is a member of the Better Business Bureau in good standing.