Attention First-Time Home Buyers:

° Get a steal-of-a-deal on a house!

° Avoid junk fees and advertising ploys!
° Get the cheapest financing!
° Never say this to a loan officer... common first-time home buyers mistake that on average costs them $1,225.
Best Strategies for First-Time Home Buyers
By Carolyn Warren, Mortgage Planner
Before you dash out, full speed ahead, to preview homes and apply for a mortgage, take a few minutes to read this entire article, because with planning, you will save yourself costly errors. Don't make a decision you will later regret! With professional insight, you can buy a home with confidence, have a pleasant experience doing so, and save enough money to furnish your new home.
In just a moment, I'm going to tell you about some common tricks mortgage people play in order to pocket bigger commissions-- at your expense!
But first...
Should You Buy a House Now or Wait?
Home prices have come down since 2008. One couple bought a house January 2009 for $145,000 that sold for $395,000 two years ago! On top of that, interest rates have declined. This means you get more house for a smaller monthly payment now than in the past five years. If your finances are stable and you are ready to settle down to one location, this is a good time to buy your own home and stop paying someone else's mortgage with your rent check! Real estate is still a good long-term investment.

HEADS UP!
Tricks Mortgage People Play to Take Advantage and Pocket Bigger Commissions
Seemingly honest loan officers can play to pocket extra money--at your expense. I'm not talking about the illegal scams--that's another topic altogether. I'm talking about common practices, such as...
An extra $450 fee here and a bogus $600 fee there. (One loan officer confided to me that she regularly charges an extra $600 fee that serves no purpose except to increase her commission--and not one person has ever objected!)
Charging a discount point without giving you a discount interest rate. (A mortgage manager confessed that his company charges 2% but spreads it out as 1% origination and 1% discount so that no one objects, not even the real estate agents!)
Locking you into a half percent higher interest rate than necessary, for their own profit, costing you thousands of dollars over the life of the loan. (If you ask me, first-time home buyers don't need that higher monthly payment!)
Deliberately setting you up to refinance so they can gouge you for another commission. (One "top producer" said she sets up her clients so they have to refinance every two years, giving her guaranteed business for life!)
Selling a "no point" loan that has more fees than what the one point would have been. This is a double rip-off, because you can deduct the points on your income tax, but not the fees. (One famous national bank charges $700 for what they call "Other fees." Whatever that is supposed to mean! They're taking advantage of the public who doesn't know any better, and that annoys me.)
Failing to disclose the Yield Spread Premium (the secret back-end commission they make, but YOU pay for). Federal law states the YSP is to be clearly disclosed in a dollar amount on the Good Faith Estimate, but since home buyers don't ask, most loan officers don't disclose it. Even worse, some lie and deny having it--but if that is true, it should say "YSP: $0" on the Good Faith Estimate.
Laughing Behind Your Back!
You don't want to walk out of the signing room just to have the loan officers high-fiving each other behind your back for the extra big fat commission they made off of you, so please pay close attention to what I'm about to tell you now.
Because of the subprime mortgage meltdown and the weakened economy, loan officers are hungrier than ever for business. One recent article sent out to thousands of mortgage professionals across the nation exhorted loan officers to try to make a higher percentage on each individual loan to make up for their lack of loan volume.
"Make the same amount of money with fewer loans," the article said.

I ask you, Is this fair, or this greed?

This is why you must not be lazy about skipping over your responsibility to learn about the home loan business.
Liars! Andertising Ploys!
Not long ago, I heard a radio ad that offered a "secret loan" that the banks didn't want the public to know about. (Supposedly, it was a loan that the banks could lose money on, so they didn't want you to find out about it, but this one company was offering it for a limited time.)
Disgusted, I called the mortgage company behind this ad and spoke with the manager about their lie. I said, "All the banks and mortgage companies have this loan program, and they all make money on it. There is no such thing as a secret loan or a free loan."

Here is how the manager responded:

"I know it's not true, but as a marketing technique, it works," he said.

Some of the nicest, most amiable, most charming loan officers are also some of the biggest rip-off artists. And some of them work for large reputable companies! So don't automatically assume these warnings don't apply to you because your loan officer is nice and represents a national company. Greedy loan sharks lurk in all the lending institutions.
This is why I recommend that if you're interested in buying your own home--either now or in the near future--whether you're a first time home buyer or even a second time home buyer, that you download your copy of Best Strategies For First-Time Home Buyers.

At 94 pages, it is too lengthy to post on a website. But it is information every home buyer desperately needs, and it is written in a style that anyone can understand. Here is an example of what you get:

° How to get cheaper financing than retail banks. This tip alone saves you tens of thousands of dollars in interest payments! (p. 5)

° How lenders rate credit. See where you fit in. (p. 10)

° How to calculate what price house you can really afford and why you should not rely on the real estate agent to determine that. (p. 21)

° Getting a steal-of-a-deal! (p. 24-25)

° Which loan is best for You? (p. 36)

° List of legitimate closing costs. If it's not here, it's a bogus rip-off fee added to increase their profits at your expense. (p. 39)

° How to buy a house if you don't have money for a down payment. (p. 43)

° What to do if you're married, and one person has good credit and one has poor credit. (p. 45)

° If you want the absolute cheapest loan you can get! (p. 45)

° Strategic suggesion about locking your interest rate to keep from getting "burned." (p. 50)

° Inside Secrets and Scam Detection. Information you won't find anywhere else. (p. 51-59)

° How to select a GOOD mortgage broker. (p. 60)
° The BIGGEST MISTAKE you can make. (What never to say to a loan officer. Common error made by first-time home buyers costs them on average $1,225.) (p. 61)
° Handy Home Buyer's Check List--print this out and take this with you when you go house hunting! (p. 71)

° 47 vital tips for avoiding Home Buyer's Remorse. Just one that saves you grief is more than worth getting this! (p. 75+)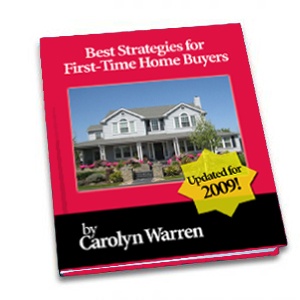 It's like having a professional mentor guide you through the process. Sure, any loan officer will be happy to give you advice--but that advice is very, very biased.
The loan officer's personal commission is based on how much profit is made on your loan.
"Carolyn saved us a lot of money. A big thank you!"
--Olga Buchanan, New homeowner, Lynnwood, WA
What Other Professionals Say...
"Carolyn's honesty and integrity are above reproach. Through this book, you can learn how to have a good home buying experience."
--Saundra White, Underwriter, 15+ years, Issaquah, WA
"Priceless information. If you plan to buy a house, you need this."
--Rick Cashman, Banker, 15+ years, Long Island, NY
"Anyone can pick this up and understand what they need to do to become a home owner. No matter what your situation is, Carolyn gives you an easy plan for buying a home in the quickest and best possible way."
--Rene Semones, Mortgage Manager, Houston, Texas
Best Strategies For Buying a Home is now available at a Discount. Previously, the hard copy sold for $14.95 plus $3 shipping for a total of $17.95. The hard copy has sold out. But now you can get the exact same information in the e-book, which has been updated for 2009, for just $8.95. This is HALF PRICE! Plus, NO sales tax and NO shipping chrge!

Why so cheap? (I've been advised that I could be selling this for three times as much.) Because I want every first-time home buyer to have this vital information. I'm sick and tired of seeing good people pay more than they need to, and this is my way of fighting the greed in the mortgage industry.

Why This Book is Unique
There are lots of books in stores about home buying, but they don't tell you all the insider tips and tricks you'll get here. That's because the authors of those books are not in the mortgage business themselves, and this information is not within their scope of research.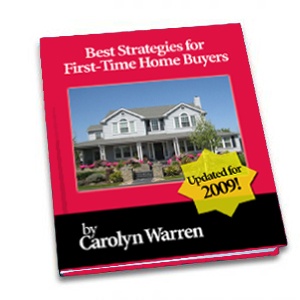 Click Here To Get Your Copy Now
About the Author
Carolyn Warren has over 12 years' experience in the mortgage business. She has worked in both retail and wholesale lending, including Ameriqest, Countrywide/Full Spectrum Lending, Green Tree Financial, and First Franklin Wholesale Lending, a national bank that provides money to mortgage brokers.
Currently, she works for Shelter Mortgage/Guaranty Bank (est. 1923) and is licensed to do loans in 47 states. Carolyn and her husband own a home in Seattle, where they live with their two cats, Francie and Honey.
Download now. It comes with a no-risk, 100% unconditional money-back Guarantee.
Click here to order